Back to all posts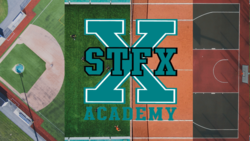 All new and returning Grade 4-6 students at  St. Francis Xavier School will have the option to train in volleyball, soccer, baseball and basketball starting in September 2019, as the inaugural class of the St. FX Academy.
The Academy will run for two afternoons every week, using facilities at the school, Monsignor McCoy High School and in the Medicine Hat community. The optional Sports Academy program aligns with the schools shift to an increased focus on physical literacy and will be taught by
teachers and community supports.
"We are looking forward to offering this new program to our students," said school Principal Nick Gale. "The opportunity for elementary-level students to experience sports academy programming will be unique to our school.  This is a program any student in grades 4 -6 can join regardless of previous experience in sports.  The focus will be on personal improvement and increased physical literacy.  We know active students are healthy students, and healthy students achieve at higher levels."
Students not enrolled in the Sports Academy will join the new Excellence Program, for two afternoons per week, where they will participate in enriched activities focusing on literacy and numeracy and activities such as robotics, computer programming and passion projects. Students will continue to receive regular gym time.
An information meeting will be held at St. Francis Xavier School, February 6, 2019 at 6 pm. Come find out about the program, register and have a school tour. Refreshments served.
Find out more:
Academy FAQ
Media Release
CHAT TV Interview