Back to all posts
Posted on
Alberta Education Assurance Survey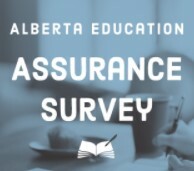 A True Picture of Our Success – Grade 4, 5 and 6 Parents ONLY 
All Alberta schools want to know that our children and students are receiving a quality education in a great school.  The 2020-21 school year is the first year of the Alberta Education Assurance (AEA) survey, which replaces the former Accountability Pillar (AP) survey.  To support transition to the Assurance Framework, this year's survey will include questions that measure both the required Alberta Education Assurance Measures (AEAMs) as well as the previous AP survey measures.  Additional questions related to COVID-19 have also been added to the end of the survey in order for the Ministry to collect some basic information about the students, parents, and teacher experience during the COVID-19 pandemic.
The AEA surveys grades 4-12 students, and only grades 4, 7 and 10 for schools larger than 120 in grades 4-12. Every year between March and April the survey is completed by students, parents, and teachers.  The survey results help to measure our learning goals as a school, school divisions, and our provincial government.  Results are then provided to showcase success and areas of concern from both a local and provincial perspective.
Schools do NOT administer the parent AEA survey.  Starting March 15th and ending April 23rd, all grade 4, 5 and 6 parents will be receiving survey packages in the mail from Alberta Education.  Within these packages you will find your personal Random Access Code (RAC), more survey information and the survey link.  Instead of selecting "don't know" as a response, we encourage parents to contact the school with questions, or view the school program information which can be found on the attached slide presentation.  The school office can provide information as well.  Alternatively, you are able to leave a blank response which does not count towards the total number of responses. 
Please contact Mrs. Van Ham if you do not receive your survey package and an online RAC will be provided to you.  We have also scheduled a Virtual Parent Engagement evening for parents to connect with Mrs. Van Ham for questions and/or discussions related to the AEA survey on Tuesday, March 30 at 7:30 pm.
Important information:
For information about the school and programs offered, please see the attached slide presentation and video.
Online AEA Survey link: https://public.education.alberta.ca/APOS/
Virtual Parent Engagement, Tuesday, March 30 at 7:30. 
Access with Google Meet: meet.google.com/nua-erpk-xnu
We thank all of our grade 4, 5 and 6 students, parents, and teachers for your continued support of Alberta Education. 
Mrs. Van Ham 
St. Francis Xavier School